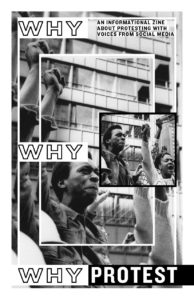 The idea for this zine came when I read an anonymous Facebook post on a friend's page several months ago. The post was about why protest matters. I shared the words on my own Facebook page and asked friends to add their responses to the list.
As months passed, I found myself trying to explain why protest matters to several children and young people I love. I started wondering if others were having similar conversations in their communities and if they needed a resource to help frame those discussions. So I decided to make a zine that included crowdsourced responses from social media to the question: 'Why Protest?'
In addition to words from my Facebook friends and some Twitter followers, the zine includes photos by my friend, movement photographer, Sarah Jane Rhee of Love and Struggle Photos and from my personal collection of vintage images. The zine was generously designed by Megan Doty who I connected with through Design Volunteers.
'Why Protest?' is available for free downloading in the hope that everyone who can will make their own copies to share with their communities. Hand the zine out at protests, use it to start discussions about why protest matters, and pass it along to the people in your lives who are newly engaged in politics. Protest is just a start and is only one form of action that contributes to social change & justice. In the end, we need to organize if we want to build power.
Mariame Kaba
Project NIA
NYC (March 2017)
If you are an educator or youth organizers/workers who wants to create a 'Why Protest?' zine with young people, we welcome all of your submissions here. Feel free to email zines to niapoetry@gmail.com.
---
Below is a version of the zine that you can download for easy printing and distribution. This PDF will make a full zine with correct page order when printed out recto/verso and folded in half. CLICK HERE TO DOWNLOAD.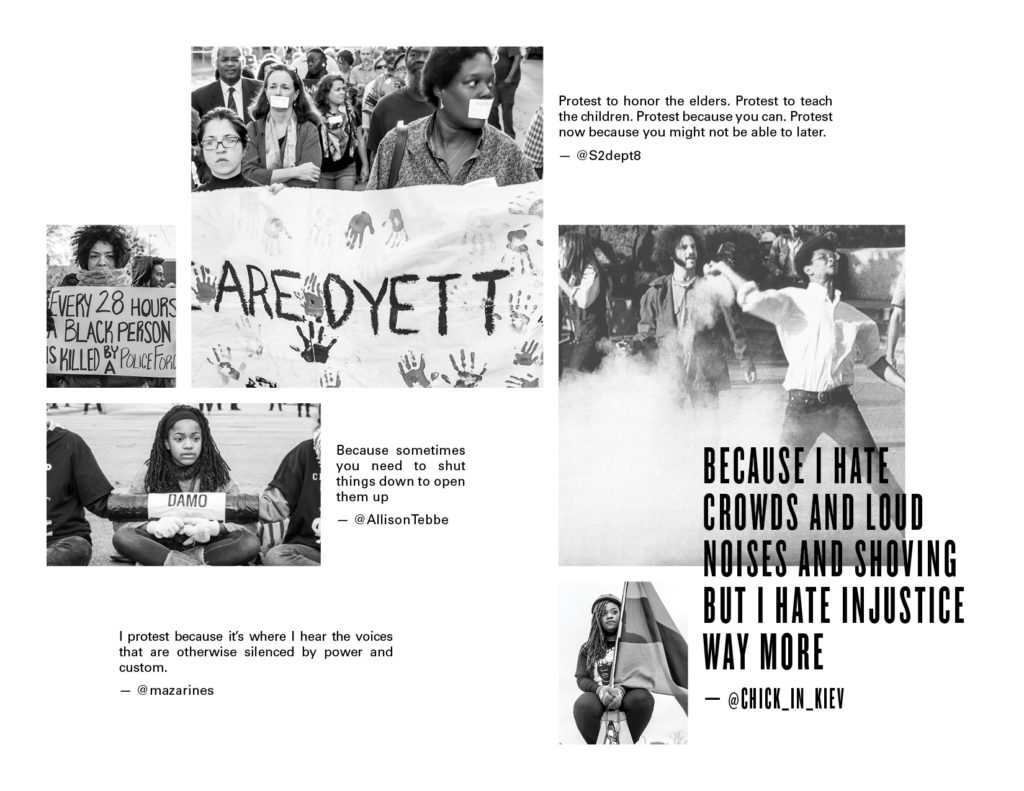 CLICK HERE TO VIEW THE WEB-FRIENDLY VERSION OF WHY PROTEST.
---
TEEN CREATED "Why Protest?" ZINE
We are excited to share this youth-created version 'Why Protest? in the works. Art students at Fulton High School in Knoxville, Tennessee created their own 'Why Protest?' zine informed by their peers. We are thrilled to share this today. Click Here to Download The 6 Page Zine.
Some sample pages are below: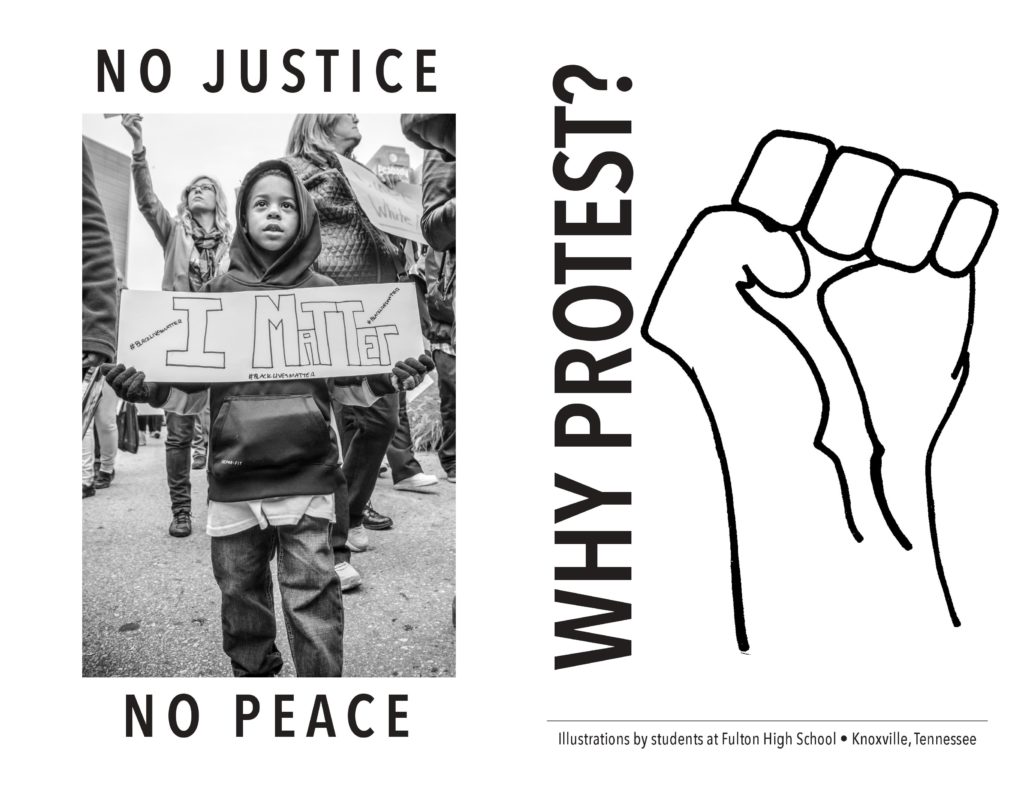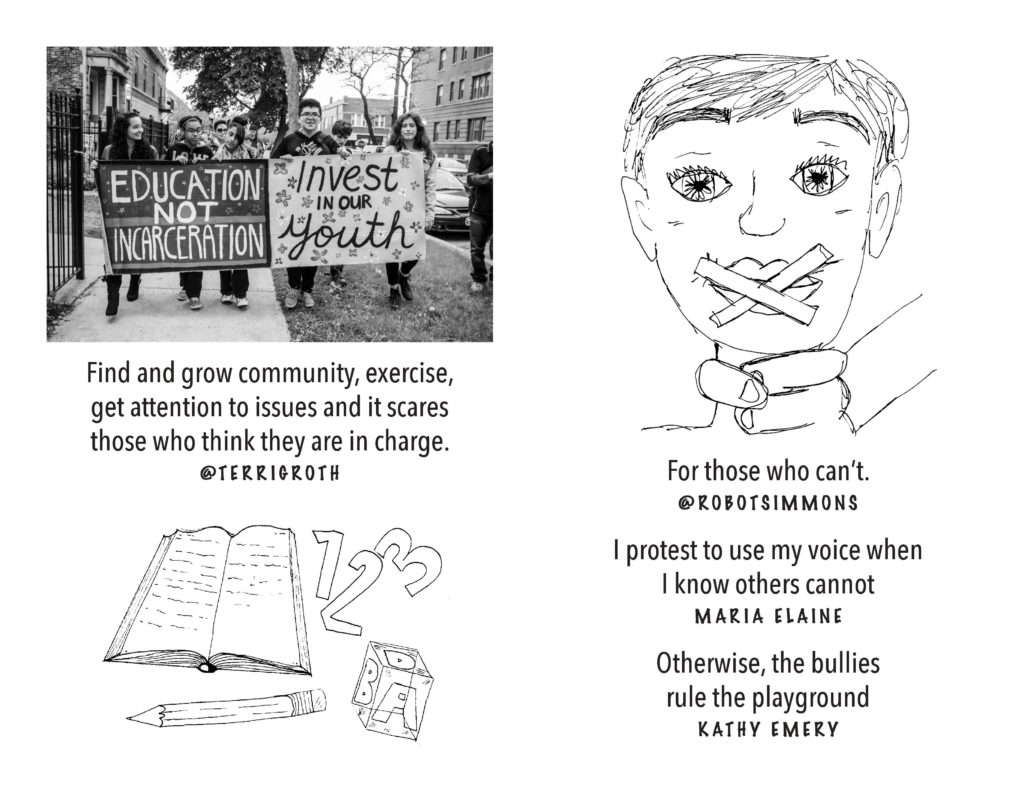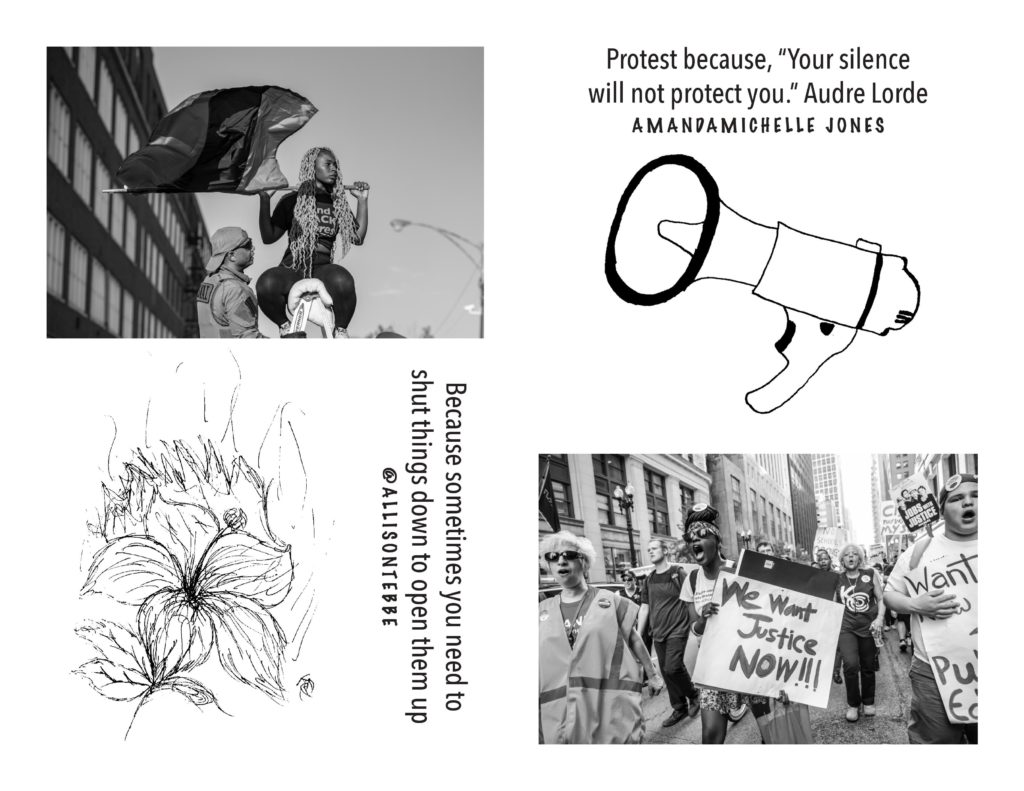 ---
Our friend Debbie has created a terrific new zine that you can also share at protests.
Since the election and inauguration of the 45th president, we've seen an outpouring of support for mass protests against his threats and policies, including the historic Women's Marches and the opposition to the Muslim Ban at airports around the country. Many are taking to the streets for the first time in their lives.

For the most part – this is fabulous. We need lots and lots of people to build the kind of power we need to out-organize the white supremacist regime currently in the White House. We created this mini zine as a resource to share with family, friends and colleagues who may be beginning their journeys as activists – or who have been around for a while but haven't been active since the dawn of the Black Lives Matter movement.

Included in this mini zine are some practical considerations for why it's important NOT TO THANK COPS at protests, if we are interested in building mass multi-racial, inter-generational, multi-gender movements for collective liberation. We hope that you'll read it, wrestle with some of the ideas presented, and share it with others.
Find the zine HERE.